NOUS AVONS LU
sur le Net

Congrès de la SiF
La Société informatique de France vous invite à célébrer ses 10 ans ! Les 14 et 15 juin 2022, au CNAM, Paris.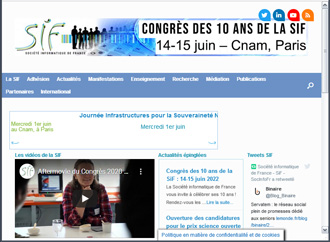 La SiF aura l'honneur d'accueillir Yann LeCun, qui présentera « Apprendre des Modèles du Monde: un Pas Vers l'Intelligence Artificielle Autonome ».
Il est Chevalier de l'Ordre National de la Légion d'Honneur, membre de l'Académie des Sciences, de la National Academy of Sciences et de la National Academy of Engineering américaines. Il est Fellow de l'AAAI et de l'AAAS, et a reçu le Neural Network Pioneer Award de l'IEEE en 2014, le IEEE PAMI Distinguished Researcher Award en 2015, le Lovie Lifetime Achievement Award en 2016, le prix Pender de l'University de Pennsylvanie en 2018, et a reçu des doctorats honoris causa de l'Instituto Politéchnico Nacional de Mexico et de l'Ecole Polytechnique Fédérale de Lausanne.
Il est le lauréat du Prix Turing 2018 de l'Association for Computing Machinery (avec Geoffrey Hinton and Yoshua Bengio) pour « des avancées conceptuelles et pratiques qui ont rendu les réseaux de neurones profonds un composant critique de l'informatique ».
Inscriptions : Ouverture des inscriptions le 4 avril !
https://congres.societe-informatique-de-france.fr/
___________________
Association EPI
Avril 2022